Pascaline Bossu: "Impressions of Greece"
Born in France but feeling Greece as her home as well, visual artist Pascaline Bossu presents an exhibition of sketches, paintings and photographies that reflect her ability to meld in a culture that is different from her own.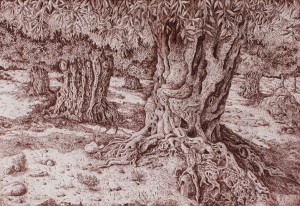 Entitled, "Impressions of Greece" the exhibition depicts her passion for the Greek landscape, her love for Greece's traditional costumes and the various
expressions on people's faces. It begins with a series of landscapes and as the artist continues her search through various regions and traditions, she presents portraits of principal members of her French family in traditional Greek costumes.
Bossu uses complementary techniques: the hand painted photograph and painting inspired by photographs resulting in a back and forth movement; a mirror effect between Greece and France, between the lack of identity of carnival masks and the sublime face found in a costume.
The exhibition will open its doors on May 12th and it will last until June 12th at the Museum Herakleidon Annex, on 37 Apostolou Pavlou Str, in Thissio.