Gilad Kahana: "Once you acknowledge the fact that you've been enslaved, you will never want to be a master" [interview]
Their common love for their motherland, Israel, and the novel of Amos Oz brought together musician, Gilad Kahana and Holywood actress Natalie Portman, in the set of "A Tale of Love and Darkness". The film was Portman's first directing attempt, while "Arieh" was Kahana's first leading role. The movie challenged both artists.
A few days prior to the film's screening at the 4th Israeli Film Week, Gilad Kahana spoke to EmbassyNews.net about the movie and his latest album, "My Africa".
Interview to Eleftheria Pantziou
Question: The film, "A Tale of Love and Darkness"  is based on Amos Oz's autobiographical novel. You are his father, "Arieh", one of the main characters in the movie. How was it for you, "living" through the plot, some of the most important historical events of the Israeli history?
Giland Kahana: Playing Arieh was an intense experience. This was my first time acting and doing it on such a set with Natalie portman was really unbelievable in a way. I did ask myself a couple of times: "Is this really happening?"
"Living" through Arieh was really amazing because, first of all, I get to be the father of Amos Oz, who is really an amazingly gifted story teller and a true visionary. Being there at all the crucial moments of the birth of Israel and its struggle to be, is truly a gift.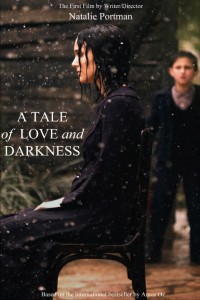 Question: "Arieh" is a serious-minded librarian, nothing like joyful "Fania". It seems that Amos Oz and Natalie Portman wanted to focus on the different elements and weaknesses of the two characters and the way they affected little Amos. How easy or difficult was it for you to adapt to the character and play the role?
Gilad Kahana: When I was asked to come and audition for the part, I immediately saw in Arieh a resemblance to my father. Not in the librarian, but rather in the fact that they both knew so much about so many things. That gave me an edge. The other thing I found in Arieh was his endless love for words, for the Hebrew language, something we both share. When I met Amos to inquire about Arieh, he asked me to make him more "charismatic" and less "dull" than in the book… I hope I succeeded!
Question: The movie was actually Natalie Portman's first attempt as a director. How was it working with her, being also the screenwriter and one of the main characters in the movie?
Giland Kahana: Natalie comes to direction from being an actress herself and that gave her great grace and empathy to all the acrors on set. She gave me great freedom to improvise and when something didn't work, she always was open to suggestions, but always focused on her vector. But I have to admitt: the fact that she is a workaholic and super sharp, gave me the assurance that this is the place to be! It was a real pleasure working with her.
Question: You recently released your new album and the theme song entitled "My Africa". The lyrics obviously reflect your emotions and concerns. Please, give us some more details on the album and your "Africa".
Gilad Kahana: "My Africa" revolves around the slave and the master in our day to day life. When you forget seeing the people around you as human beings and refer to them only as functional beings. Like when you go to a gas station and give the keys to the man operating the fuel pump through the window, without even looking into his eyes.
I think that once you acknowledge the fact you've been enslaved you will never want to be a master. That requires daily reminders. The theme song "My Africa" was written while walking in downtown Tel Aviv and having an acute feeling that this is a third world country, no matter what anyone says, and you better admit it.
Question: The presentation of the album was also a unique experience:  It spread over three nights, at the Romano House building in Tel Aviv, with slots installed in  17 rooms (one for each song) and it involved various forms of art. What was the message you wanted to pass on to people?
Gilad Kahana: I did not want to present the songs, I wanted to create the setting where the songs were created. In order to do that, I had to create an eco-system of inspiration. Working with so many forms of art, I believe, feeds the creative juices endlessly.
Question: You've had a long career as a singer, a composer, a performer and a writer. You also filmed a documentary on the Mumbai attacks in 2008. You've had your first acting experience. What is next?
Gilad Kahana: Good question. I think it's time for world domination!
PHOTOS: www.giladkahana.com / Greek Film Archives