The 9th Poetry Recital in Athens
Mexican professor and journalist, Elia Ramirez, in collaboration with the Museum of Greek Folk Art, the Museum of Greek Folk Musical Instruments and argentinos.gr is organizing the 9th "Poetry Recital – Life and Death" on March 20th in Athens.
The event will include poetry reading in Greek, Spanish, Portuguese and Ladino and a concert of folk music from Latin America, with Portuguese singer Andre Maia, pianist Vana Verriopoulou and musician Arturo Huerta.
The event will place with the support of the Poets' Circle , the Spanish and Portuguese communities of Athens.
Info;
9th Poetry Recital – Life and Death
March 20th– 10.45 am (tour around the premises), 12:00 (recital)
Museum of Greek Folk Musical Instruments – Fivos Anogianakis Collection
1-3, Diogenous st. Plaka, Athens
Free admission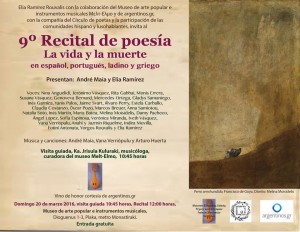 PHOTO: "The Dog" – Francisco Goya
Poster design by Melina Moysidelis