Contemporary Print Art at Herakleidon Museum
A group exhibition dedicated to the art of contemporary printmaking will open its doors on June 17th at the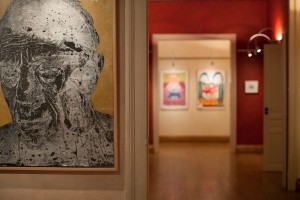 Herakleidon Museum in Athens. It will entail the work of eight artists who live and work in Athens, Greece:
Zacharias Arvanitis, Kati Mahrt, Constantinos Papamichalopoulos, Miltiades Petalas, Despina Kotalakidou, Florence Christakis, Akis Pirounidis and Nikos Stavrakantonakis.
This exhibition is organized in collaboration with the Athens School of Fine Arts  and the Culture, Sports and Youth Organization of the City of Athens.
"This exhibition constitutes a tribute to the handmade relief print, the true mother of the imprint processes and the magic woven by this old but yet so modern artistic expression", notes curator Michalis Arfaras, director of the Printmaking department of the Athens School of Fine Arts. "In the beginning of the 21st centur
y, when electronic printing replaced the conventional printing techniques, the relief print made by hand returned, irrevocably, to the artists' studios. Thus the printed image underwent a renaissance as an authentic form of artistic creation. Contemporary artists use the various printmaking methods and techniques of expression to create original works that often exist in a very small number of copies or are unique".
Info:
Friday, June 17th-Sunday, September 18th, 2016
Museum Herakleidon Annex (37 Ap. Pavlou Str., Thissio)
In conjunction with the exhibition that will last three months (17/6-18/9), various related activities (open discussions, engraving and silkscreening workshops, etc.) will take place, as well as guided tours by the artists. The dates of all activities will be posted on the museum's site and on its Facebook page.
PHOTOS: Fani Toumboulidou