Canadian MP Peter Fragiskatos: "The settlement of refugees is not just a government issue; it's a national project."
Peter Fragiskatos was recently elected Member of Parliament for London North Centre in Ontario, Canada with Justin Trudeau's Liberal government. A political scientist at King's University College, he is combining his passion for politics with his drive to serve his community.
As Canada last week received 10,000 Syrian refugees, one of the main priorities of the newly elected government is their settlement, their social and cultural integration. Peter Fragiskatos spoke on EmbassyNews.net about this challenging task. He also referred to his Greek roots and the cultural elements that have made him embrace his Greek heritage.
Interview to Eleftheria Pantziou
Q: The newly elected liberal government of Justin Trudeau is gender – balanced, consisted mostly of young people (under the age of 50), that originate not only from Canada but from other countries as well. The Canadian media characterized it as "a young and ethnically diverse" government. How do you feel being part of it?
Peter Fragiskatos: I am very proud to be a member of a governing party that has opened itself up to fresh perspectives and shown a willingness to bring in younger voices. It is true that we are young and ethnically diverse, however, Canada as a nation is young and ethnically diverse. This allows us to embrace the challenges of a multicultural society, listen to the needs of young people, while striving to represent and listen to all Canadians regardless of their age or ethic background.
Q: You leaded a major pre-election campaign and you managed to get the vast majority of votes, compared to Susan Truppe (50.5% of votes). You've said that your priority was to address the city's problems and confront the country's challenges. What are some of the priorities set for 2016?
Peter Fragiskatos: Though priorities are always changing depending on issues that arise, there are some priorities that will not change for me. These include helping improve London's economy so job growth can begin to take off in this city.
It is also imperative that London address the problem of traffic congestion, which hurts economic productivity. We need better transit in our city and I intent on working on this issue with all stakeholders, so that citizens in London can travel more efficiently and businesses can get their goods to market more efficiently.
Furthermore, I also believe it is important that we show compassion to Syrian refugees – both locally and nationally – whose lives have been turned upside down by the civil war.  London is in the process of accepting refugees from Syria and it is a priority of mine that they settle and integrate well into this city.
Q: Europe is struggling to confront the refugee crisis, and so is Greece as a getaway to Europe. The Canadian government has said it would receive 25,000 Syrian refugees. How is Canada planning to support these people and help them integrate into the Canadian society?
Peter Fragiskatos: We will work with provincial and municipal governments, along with settlement agencies, to ensure that proper integration takes place. In particular, I would like to note that Canadian settlement agencies – based in various cities across Canada – are very important as their focus and speciality is settling immigrants and refugees.  With the proper support from our government, these organizations will be able to do what is needed to ensure a good transition.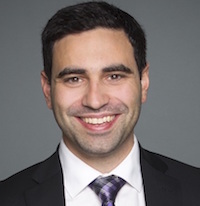 With that said, it is also important to note that the settlement of refugees is not just a government project but a national project. Canadians throughout our country have stepped up and expressed a desire to sponsor refugees from Syria, welcome them into their homes, and do whatever is required so that they feel welcome and a part of our community.
Q: How could Greece benefit from Canada's example?
Peter Fragiskatos: I understand the circumstances faced by Greece on this particular issue are much more challenging than those faced by Canada. At the same time, I would encourage Greece to do whatever is in its capacity to help these refugees, whose lives have been destroyed by this ongoing conflict.
Q: How was it for you growing up in Canada, as a 2nd generation Greek migrant?
Peter Fragiskatos: It was a privilege to have the opportunity to grow up in a multicultural society that embraced my identity as a Canadian of Greek heritage. This is what Canada is: a cultural mosaic united around common values including justice, tolerance and freedom.
On a lighter note, I have very amusing memories of friends asking me many questions about Greek culture and especially our cuisine. They had significant hesitation trying classics like pastichio and spanakopita but once they started they could not stop!
Q: Have you managed to keep in touch with your Greek roots?
Peter Fragiskatos: Yes, absolutely!  I continue to embrace my Greek roots every day. Credit for this goes to my parents as they insisted that my siblings and I learned the Greek language and embraced our cultural traditions to the fullest. The same is true for my extended family and so being Greek in Canada was always very normal and, in fact, very easy to do.
Q: You've repeatedly said that your grandmother (who migrated from Greece after WWII) has been your source of inspiration and your driving force in politics. In what way?
Peter Fragiskatos: Both of my Grandmothers were very important inspirations. They inspired me because of the struggles they overcame. Certainly their perseverance throughout World War II is especially important, but so too are their struggles throughout their immigrant experiences. I learned the value and true meaning of hard work from both of these incredible women, and I put to use the lessons they taught me every day.
Q: Have you visited your grandmother's homeland and if yes, what do you miss the most?
Peter Fragiskatos: I need to clarify that my father arrived in Canada as an immigrant from Greece in 1971 at the age of sixteen. I have visited Greece many times and I do miss it. Greece and the Greek people are in my heart and that will never change.  Zito h Hellas!