Piano recital by Panos Karan in commemoration of 5th anniversary of East Japan Great Earthquake
Embassy of Japan in Greece in commemoration of the 5th anniversary of the East Japan Great Earthquake organised a piano recital by Panos Karan, a Greek concert pianist living in London, who frequently performs in venues around the world.
The concert took place at the residence of Ambassador Masuo Nishibayashi on Saturday evening.
Karan has been actively supporting the people in north-eastern Japan affected by East Japan Great Earthquake in 2011. In 2015, Karan and Fukushima Youth Sinfonietta performed in Tokyo, in the presence of the Empress of Japan, Michiko.
Karan has founded "Keys of Change", a charity formed by individuals of different backgrounds who deeply believe that playing music can make this world a better place. It was established in 2011 with the aim of advancing lives of children and young people around the world through musical education and access to live classical music performances.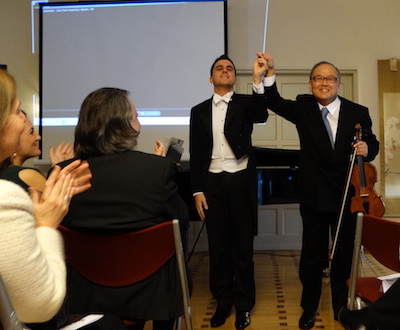 Keys of Change has travelled to remote areas of the Amazon basin; areas in Northeastern Japan torn by March 2011 earquake, tsunami and nuclear disaster; Uganda – a country heavily affected by HIV epidemics, India – a country where people still live in incredible poverty, Sierra Leone – a nation still recovering from a prolonged brutal civil conflict, Siberia and Greece. While purpose of travel, and designation of music in this journey varied, music brought alive emotions – fascination, happiness, tears of sadness, hope and encouragement, which amazed audiences who gathered around the piano more that hundreds of times.
"Classical music can be enjoyed as much on the banks of the Amazon river and slums of Sierra Leone as on the stage of Carnegie Hall or Southbank Centre. It is one of the simplest yet strongest ways for individuals around the world to build bridges for peace and make a positive social change." – says Panos Karan.