Ambassador of South Africa: "Greece is dealing with the refugee crisis in a humane way" [interview]
Greece and South Africa share strong diplomatic, economic and cultural ties, as there are currently 60.000 Greeks living in South Africa and many South Africans living in Greece. The Ambassador of South Africa in Athens, His Excellency, Marthinus Christoffel Johannes Van Schalkwyk, spoke to EmbassyNews.net about the economic relations of the two countries and the common cultural elements. He also commented on Greece stance towards the refugee crisis.
Embassy's First Secretary Marks Mmutlane jointed the discussion and spoke about the upcoming African Film Week, an annual event that will include some of the most important films and documentaries from 10 African countries.
Interview to Eleftheria Pantziou.
Question: South Africa has been a welcoming place for Greek investments, especially in previous decades. How many Greek enterprises are currently operating in South Africa and in which sectors?
Ambassador Marthinus Van Schalkwyk: It is estimated that there are currently 60.000 Greeks living in South Africa. The Greek community has a rich history. Greeks are seen by other South Africans as hard working, disciplined people, because many Greeks started their business activity in trade, mainly in small businesses. They were people that did not rely on the state or anybody to look after them, they looked after their families and they worked hard.
Over the decades they expanded in a number of other fields. So, nowadays you'll find Greeks in the medical field – doctors and specialists, in law and in academia, even in Parliament. Second and third generation people feel proud to be of Greek origin, but they have integrated into the South African society. There is a Greek Association that is always arranging events and people get together, but they have not isolated themselves. They are pretty active in all those fields.
Question: What's the situation like today for Greek entrepreneurs in South Africa?
Ambassador Marthinus Van Schalkwyk: They are still doing well. Many developing countries took quite a hit because of the falling commodity prices and South Africa is one of them. Since 1994 however the economy has been growing at a fantastic pace, so many Greek people are positively affected by that and they are still doing quite well.
Question: How has the current crisis affected South Africans living in Greece?
Ambassador Marthinus Van Schalkwyk: It's difficult to give a single answer. It depends on where people stand politically. Apart from the major events that we organize, we often invite South African-Greeks to the South African residence to have lunch or dinner and discuss. It is very important for us to know how they see things here. You get many answers: During our last dinner, we had people that belong to the Left and the Right and they had different views.
Question: So, they are very active in politics.
Ambassador Marthinus Van Schalkwyk: Yes, absolutely and they have very strong views! What struck me is that there is currently one thing everybody agree on: How strongly they feel about Greece as a part of Europe. I found it very interesting! Before I came here, I expected that it would be a hardly debated issue and I was surprised to see that there is a strong, common view.
Q: Greece is currently confronted with the severe influx of refugees. How do you think Greek authorities should deal with the issue and what is your comment on the EU policy on the matter?
Ambassador Marthinus Van Schalkwyk: As South Africans we have sympathy, because we have been confronted with a similar situation. We have long borders, open borders and there are a lot of African people migrating to South Africa. Some of them are economic migrants and some of them are refugees. We know that it is not an easy task. It's very, very difficult.
The one thing I must say I was impressed with, was that many leaders in Europe, but also here in Greece, have not humiliated the refugees, even though there is still a debate on how people should be accommodated. I know there have been allegations of incidents where this was not the case, but generally speaking, Greece is dealing with it in a humane way.
In South Africa we've had a backlash from our own community against people coming in. There was fear. It's a very complex issue. We cannot prescribe how Greece should deal with it, we are looking at the situation with sympathy and I think that so far the Greek government has not gone to the extreme and that is a good sign.
Question: The Embassy of South Africa has always been supporting the exchange of views, ideas and cultural elements between Greeks and South Africans. Within this framework it's been actively participating in the African Film Week for several years. Please, give us some information on this year's Film Week.
Ambassador Marthinus Van Schalkwyk: First, I must say that the South African Greek Association here is very active. We make sure that we stay in touch with the broader African community and all the organizations representing them. This is why we participate in the African Film Week and  other initiatives.
It's the 5th time that we are co-organizing the African Film Week. The opening ceremony is on February 25th and it will last until March 2nd. We have 10 African countries participating and South Africa is also present. It's fascinating to look at the films due to be screened. Some of these films were presented at International Film Festivals and have gotten a very good response. There are topics featured in the films, that the African continent is struggling with and people know that; Child soldiers for example is a terrible problem in some parts of Africa.
There are two very interesting movies from South Africa; "Yesterday", a drama by director, Darrell Roodt, which is about a woman struggling with AIDS and the "Bang Bang Club" by director Steven Silver, which is about the friendship of four men  prior to the downfall of the apartheid in South Africa.
Question; Please, provide us with some information on this year's special guests.
First Secretary Marks Mmutlane: You have to watch "The Bang Bang Club". It's a fascinating film about the story of four men, bonded by friendship and the extremes they tried to capture with their cameras in the days prior and after the downfall of the Apartheid in South Africa. They have won many awards, including the Pulitzer. The film talks about the courage of people in the media.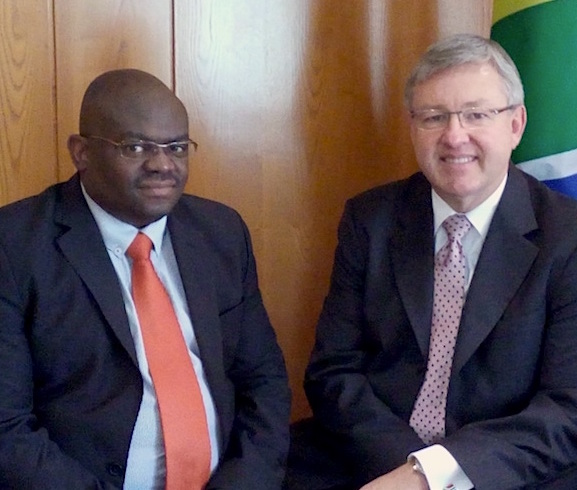 It is an honor for us that, during this period we managed to bring all Africans together and view the beauty of the African cinema. So, it's a week of very good movies, free of charge. We are also inviting Greek families to attend the screenings.
We have two special guests this year. The director from Angola Manuel Narciso "Tonton" is expected in Athens to present the documentary "Children Accused of Witchcraft". Also director Zeresenay Berhane Mehari, on February 26 will present the Ethiopian film "Difret" to the Greek audience.
The opening film of the tribute will be "Destiny" by one of Egypt's most well-known cinema representatives, Youssef Chanine. The film whose subject is the life of the 12th century philosopher Averroes, participated in the Cannes Film Festival in 1997.
Question: The festival has been a great success amongst Greek cinema lovers. Why do you think that is?
First Secretary Marks Mmutlane: It is true. We've also seen them participating in other events, such as the African Food, Music and Handicraft Festival and our National Days. Maybe it's the common history and tradition of Greeks and South Africans, as a lot of Greeks migrated to South Africa many decades ago. And there are currently a lot of Greeks that have some kind of relation with Africa. Or maybe it's the food! (laughs).
The Greeks are always interested in the Embassy's events. So, next is the African Food, Music and Handicraft Festival that will take place on May 21at and 22nd and it will include all African Embassies. This is a great opportunity for Greeks and Africans to get together.
Some of the other events that the Embassy will hold in 2016 is the National Day on the 9th of May. In September we celebrate our Heritage Day, then the Nelson Mandela Day and later in December we participate in the annual Christmas Bazaar organized by the Athens Embassies.
We are also organizing the "Bring a Child to Work" initiative. We invite Greek children to visit the Embassy, meet the Ambassador and the staff and learn more on South Africa and the Embassy's operation.
Question: Do you think there are common elements in the culture of Greeks and South Africans?
Ambassador Marthinus Van Schalkwyk: I think that Greek people are warm, family oriented people. I am here without my family, I see them every 8 weeks. So, there are many weekends that I am alone. I must say that to go out on a restaurant on a Sunday is just a fantastic experience, because all the Greek people are there with their children, with their grandparents and this is something that we also like!
It seems that Greek people can't do anything without lots of nice food. This is the case in South Africa as well. So, there are common elements, when it comes to how people enjoy themselves.
Question: Have you had the chance to travel in Greece?
Ambassador Marthinus Van Schalkwyk: Before I came to live in Athens last summer, I had only visited Greece for business. So, when I first came I did all the things that tourists do. I visited Plaka, I went to the Acropolis… But there were two things I thoroughly enjoyed: The first was when I went with my wife to Meteora, which I think is a place out of this world! I've done and seen many things in my life, I have traveled a lot, I 've visited the Great Wall in China but Meteora is something absolutely special and unique. So, when my friends visit Greece, I am sending them to Meteora.
I am not particularly font of the beach and in South Africa my children are always dragging me to the beach, but here during summer I discovered two fantastic beaches in Vouliagmeni and in Asteras.
I've also been to Hydra and this summer I am planning to visit the island of Skiathos. Santorini is definitely on my list and my wife wishes to go to Lefkada.
Question: Based on your experience as a former Minister of Tourism, how could South Africa attract Greek tourists and how could Greece become an attractive tourist destination to South Africans?
Ambassador Marthinus Van Schalkwyk: This is something I would like to build on. I think we can have many more Greeks coming to South Africa and vice versa. Tourism really works when it is a two way street. And in the old days we had the direct, non-stop Olympic Airways flight. Traveling easily to a destination is very important. I must say that during the last three years the connection is much better, especially with the eastern European airlines.
There is a small number of Greeks that we want to consider as tourists to South Africa and the other way around. As a matter of fact there is quite a number of South Africans that own property on the Greek islands. But we can do much more.
We are planning to meet with local tour operators to see if we can market South Africa more effectively, since it is not a top priority at the moment. But South Africa offers something exotic. When people go on holiday, they don't want more of the same, they want something different. And what South Africa and the African continent offers is by far the best safari experience and safari products. I think there are many people here that are interested in that kind of experience. We have a wide variety of choices: You can either do it in a rough way or you can nowadays do it in absolute luxury.
What people here would also be interested in is cultural tourism. It's a huge trend now worldwide. People are keen to see the way other people live, what they eat, where they live.
Greece is an affordable destination but I've never seen a marketing campaign in South Afrcica. There is poverty in the African continent but the middle class is already bigger than the Indian middle class. If you look at people's impression of Greece they mention the Greek islands. But there is so much more. For example the Meteora.  It's a place I think the South Africans would love to see. There is also the Peloponnese, an absolute unique experience. So, I think Greece should promote much more areas than the islands.
Another aspect is the real estate sector in Greece. If you look at other countries, for example Spain, Portugal, Cyprus, they are all marketing in South Africa. I look at property prices in Greece and I think it's very affordable. I think there is a business opportunity there.
Question: Have you discovered a favorite place in Athens yet?
Ambassador Marthinus Van Schalkwyk: I love the vibes of Kolonaki! When I am alone, without my family I go to Kolonaki. It's the coffee shops, the city life that I enjoy! There is a kind of urban elegance there.
Question: You mentioned the Greek cuisine. Is there a favorite dish?
Ambassador Marthinus Van Schalkwyk: The meat here is very good and the South Africans like meat. I love the way pork is being prepared, it's fantastic! One thing I absolutely love is kokoretsi! I can't wait to taste the traditional "magiritsa" soup on Easter, which is made of lamb offal, romaine lettuce and an egg – lemon sauce.
When it comes to sweets, I am addicted to galaktoboureko, it's the best! (laughs) We do have a similar sweet, but galaktoboureko is the best sweet in the world!
Also the yogurt! You know you can find yogurt in South Africa and Europe but it's not the same. Here the texture is like cream and I never thought there could be so many different kinds of yogurt. I've tasted all of them! The "straggisto" is fantastic!
Main photo: © South African Tourism Ministry